Every autumn hundreds of birders from all corners of the world come to Batumi and these who have even once visited this migration paradise won't be surprised to hear about another fantastic season we had this year with hundreds of thousands of beautiful wings following this mind blowing migration. In mid of August already very first streams including thousands of noisy European Bee-eaters, White and Black Storks, Booted and Short-toed Eagles, Honey and Steppe Buzzards, Black Kites, Marsh, Pallid, Montagu's and Hen Harriers, Eurasian and Levant Sparrowhawks started their long route to Africa and very first records are normally made by Batumi Raptor Count, a project for monitoring and conservation of birds of prey in Batumi Migration Bottleneck. Every single day from mid-August to mid-October, from seven to seven clickers go nonstop and this giant work made for 11 years since 2008. Migrants here never witness lack of attention, but rather all are in the focus… everyone wants to have a piece or special piece of this spectacle, so we have got our first special piece at the end of August; a melanistic form of Montagu's Harrier over the coast in Chorokhi Delta.
This year we got surprised of recent improvements made up at the raptor watchinpoint in Shuamta (station 2); all facilities including stairs, handrails and shelters have been completely renovated, while local family could even manage to open small cozy Cafe next to the watching point, so watching migration became a lot nicer with glass of cold beer or cup of coffee. For next year Tourism Department plans to provide same type of works up at the raptor watchinpoint in Sakhalvasho (station 1). Architectural project has been already approved, as well as commitment date of construction works, so we all look forward to occupy this place next autumn.   
In the first week of September Batumi traditionally hosted 7th International Birding Festival. This superb event, which is implemented since 2012, aims to stimulate and promote birdwatching tourism and to support local communities and therefore conservation of birds of prey in the Bottleneck. This year we have been honored to host William (Bill) Clark with his lecture about Raptor Migration Around the World and Eagle Quest, Klaus Malling Olson with his lecture about Raptor Identification Challenges, David Lindo (The Urban Birder) with his lecture about Urban Birding and Luke Tiller with his lecture about Raptor Migration in the USA. Among other special invitees; Sean Grace, Dirk Draulans, Roland Weber, Dominic Couzens, Tamas Nagi, Roger Riddington, Begijn Le Bleu, Jason Moss and Andres de la Cruz.

Festival week offered various exciting excursions to different birding hotspots in and around Batumi, so we had fantastic time with lots of highlights and a few peak days at the watching points. During such excursion to Maltakva Delta, which is further north from Batumi, the festival group has found very rare Caspian Plover (juvenile). There are only a few records of this species in Georgia, while this particular one is first ever photo-documented. This amazing capture belongs to Johannes Jansen (Belgium).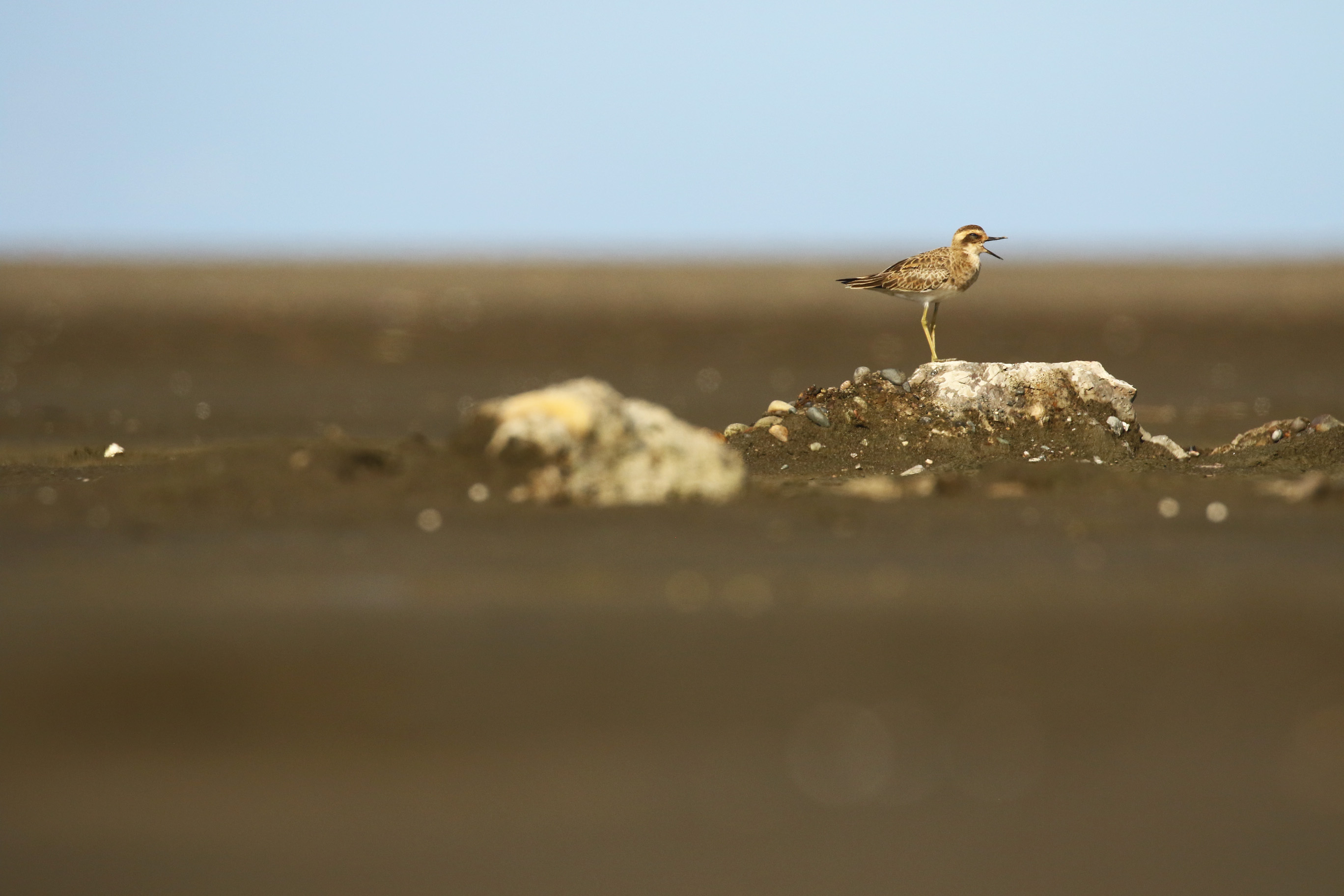 Another rare found during festival week was made at Chorokhi Delta, which is south of Batumi. During this visit group has been able to observe Booted Warbler, while a few days before Gerald Driessens reported Egyptian Nightjar flying over the beach in Batumi Botanical Garden, which is already second record in Batumi. First ever record of this bird was made in autumn 2017 and even photo-documented by Simon Cavailles (France) and Jonas Scharer (Switzerland). Continuing this list we wouldn't miss mentioning about another significant find of this year, Oriental Turtle Dove. First record of this year been made from the raptor watching point in Sakhalvasho (station 1) by Tohar Tal (Netherlands), however almost one month later (on 28/09/2018) one has been photo-documented in Chorokhi Delta by Andreas Gullberg (Sweden). Picture of flying birds – one on the top and picture of sitting birds – one to the left.

Here is one more interesting capture made at the beginning of October. While having day-off, BRC team members Jos Koopman (from Netherlands) and Filiep T'jollyn (from Belgium) decided to visit Chorokhi Delta and found this beauty, which was digicaptured by Jos Koopman. Very first assumption was made towards Sardinian Warbler (eastern momus subspecies), but some people slope also for Menetries's Warbler. What would be your ID options? Just write us at info@birdingcaucasus.com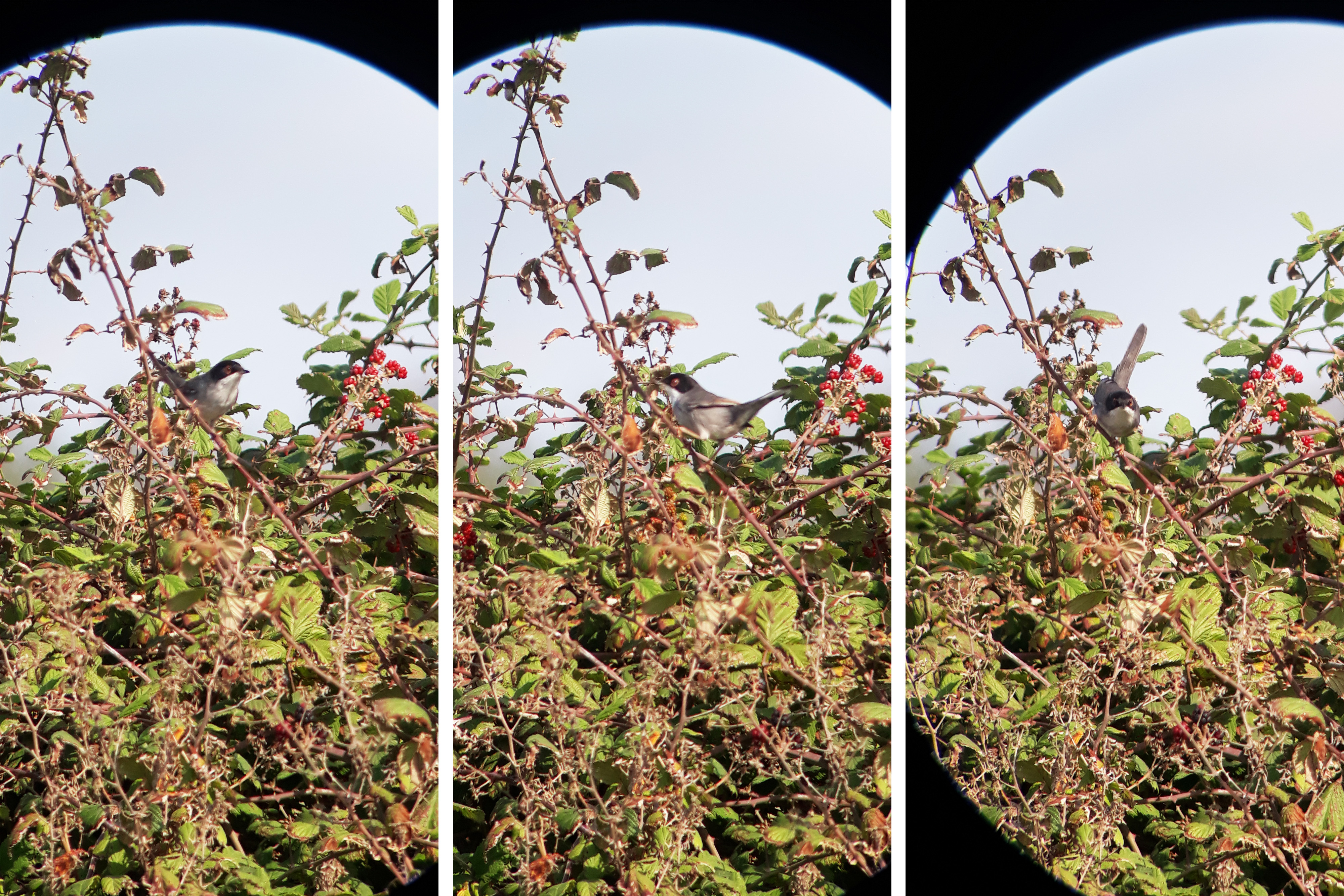 Rarities are part of migration and infrequent bonus for birders in Batumi, especially at Chorokhi Delta, Maltakva Delta and or Batumi Seaside Park, because these areas got significant role and justified as an important stopover and roosting ground for long-rage migrants, where any eastern species can easily turn up, such as: a few Daurian Shrikes and Black-Capped Sparrow-lark in 2015, Egyptian Nightjar in 2017, Steppe Grey Shrike and Little Bustard in 2017, Pectoral Sandpiper in 2017, Oriental Turtle Dove this year and many more. Due to this reason, birders often say: "everything is possible in Batumi", so here expect unexpected.
All in all, this season was very successful and productive. Until last week of September we had chance to observe astonishing raptor migration, as well as superb diversity of marine, coastal, freshwater and passerine species, while last week of September was just tremendous with all numbers and diversity of eagles overhead, such as Steppe, Lesser Spotted, Greater Spotted, Imperial, Booted and Short-toed… Well, Batumi never disappoints!
If you are interested in full overview of daily and seasonal totals of raptor count, just simply click here. On the same page you can also find the section about Batumi Raptor Count or how you can support. These people truly deserve more than just applauses for such an invaluable work.
If you are interested in full overview of marine, coastal, freshwater and passerines seen this autumn, just simply write us to info@birdingcaucasus.com and we will be happy to provide you with complete file.
We would like to take this opportunity to thank everyone we met or worked with this year!
Wish you successful birding and hope to see you in Batumi next year!