Spectacular Georgia, a tiny, sparsely populated and illustrious country into the arms of the Greater and Lesser Caucasus Mountains is a lodge for marvellous wildlife by virtue of its unique and favorable position forged for thousand years right in the hearth of the prominent Caucasus Eco Region. Formed on the eastern brink of the greater Black Sea basin and far north of the Irano-Anatolian belt, this gorgeous piece of the Western Palearctic got the privilege to be the silk border between Europe and the Middle East assembling extremely varied landscapes and habitats along with astonishing compositions of widespread and range-restricted species typical for Europe, Asia and the Mediterranean regions, with a giant proportion of the highlights found nowhere else in the earth. Contrary the influential and rapidly expanding global headway revolving the modern world, Georgia harbors most of the nature preserved pristine and within the ten days of our remarkable journey we are honored to gift you full access to this blooming wildlife abundance, embracing country's key hotspots, with a stunning list of over 200 bird species, including the most wanted Great Five of the Caucasus.
Classic Georgia
A ten-day birdwatching tour to Georgia
1 – 11 May 2024
Target birds
| | | | | |
| --- | --- | --- | --- | --- |
| Velvet Scoter | Rufous-tailed Rock Thrush | Black Redstart ochruros | Semicollared Flycatcher | Golden Eagle |
| Caucasian Grouse | Syrian Woodpecker | Black-eared Wheatear | Krüper's Nuthatch | Eastern Imperial Eagle |
| Caucasian Snowcock | Middle Spotted Woodpecker | Pied Wheatear | Western Rock Nuthatch | Lesser Spotted Eagle |
| Black Francolin | Turkestan Short-toed Lark | Finsch's Wheatear | Wallcreeper | Greater Spotted Eagle |
| Chukar | Greater Short-toed Lark | Isabelline Wheatear | Rock Sparrow | Steppe Eagle |
| Great White Pelican | Calandra Lark | Barred Warbler | Red-fronted Serin | Short-toed Eagle |
| Dalmatian Pelican | Horned Lark penicillata | Eastern Orphean Warbler | White-winged Snowfinch | Booted Eagle |
| Transcaucasian Crane archibaldi | Yellow Wagtail feldegg | Menetries's Warbler | Great Rosefinch | Montagu's Harrier |
| Black Stork | Citrine Wagtail | Eastern Olivaceous Warbler | Bearded Vulture | Levant Sparrowhawk |
| European Roller | Caucasian Twite brevirostris | Green Warbler | Eurasian Griffon Vulture | Lesser Kestrel |
| Rose-coloured Starling | Rufous-tailed Scrub Robin | Mountain Chiffchaff | Eurasian Black Vulture | |
| Blue Rock Thrush | Guldenstadt's Redstart | Red-breasted Flycatcher | Egyptian Vulture | |
| | | | | |
| | | | | |
| 0 | 0 | 0 | 0 | 0 |

Overview:
Our thrilling voyage commences from the capital of Georgia and prior to heading northwards to the Greater Caucasus, we aim to explore a few interesting places not far from the city, including a small spot of pine forest with one of the tour's highlights, indigenous Krüper's Nuthatch at its easternmost breeding ground. Paying another short visit rather to the lush forest en route, we should not miss catching good sight of Semicollared and Red-breasted Flycatchers alongside with a set of other forest birds.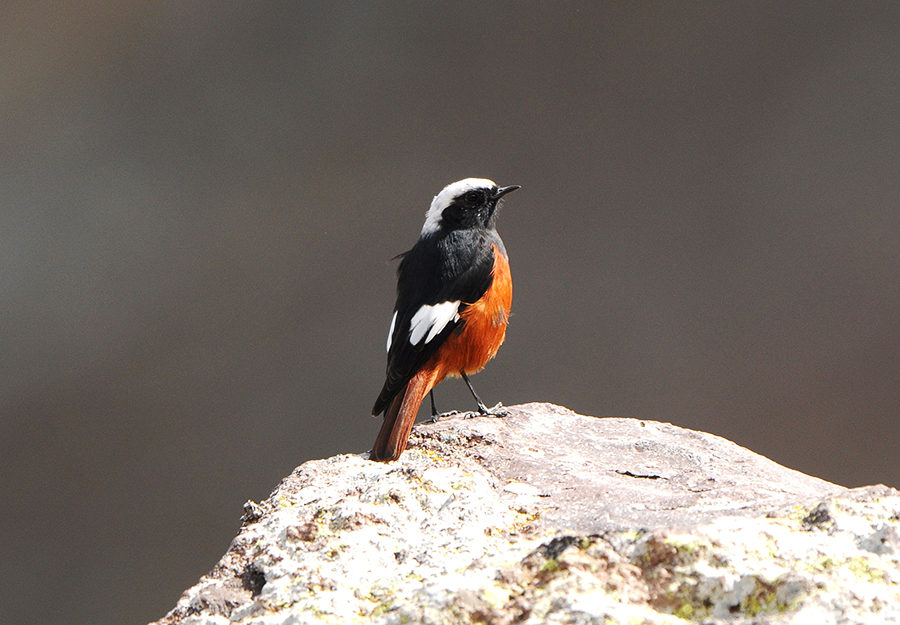 The journey takes us to the tiny upland village surrounded by towering snowy peaks of the magnificent Greater Caucasus Mountains, where all target endemics found. This period of spring renders an advantage to witness all specialties on low ground, without an effort of trekking uphill. Buckthorn shrubs along the river valley host flocks of Great Rosefinch, Guldenstadt's Redstart and Caucasian Chiffchaff providing a brilliant chance to enjoy these exclusive birds. Just one step away from the village, alluring hillsides beneath a glacier tip hold a substantial group of Caucasian Snowcock. Every single morning, this gallant bird exhibit on the edge of the rock and serenades the sunrise. Another, no less impressive spectacle presented in the neighbouring rhododendron scene, where Caucasian Grouse performs its best dance. Surrounding craggy slopes and small patches of pine forests at the village boundaries offer a wonderful selection of other highlights including Rock Thrush, Red-fronted Serin, Alpine Accentor, Barred Warbler, Green Warbler and a lot more, whilst at alpine meadows with small creeks and light dustings of snow we should expect White-winged Snowfinch, Horned Lark and likely Corncrake amongst new arrivals. A set of diverse raptors includes Golden Eagle, Lammergeier, Peregrine Falcon and way more amid the bounty spring migration. Apart from eminent birds, this hotspot offers good chances to spot a few attractive mammals too, such as nearly threatened East Caucasian Tur. This massive ungulate can be easily seen at many places around, grazing on grassy slopes.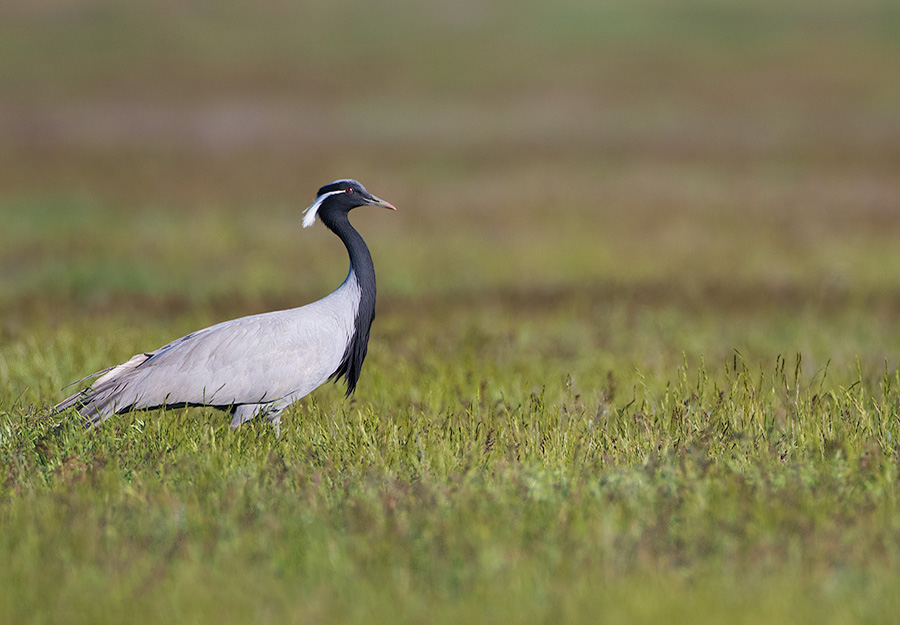 Second part of our journey takes us far south to the scenic wetlands of the volcanic mountain plateau, unfolding the curtain to all of its beauties. This remote hotspot lay on the Lesser Caucasus ridge and harbors numerous lakes with rich waterfowl fauna, thereby providing some of the best birding opportunities in the country. Emerging from the vast nature reserve, we will reach by the vivid subalpine lake with picturesque peninsular hamlet and small wetlands on the eastern coast. This lake shelters a small, isolated population of Velvet Scoter alongside with a range of other diverse wildfowl. Surroundings of the volcanic cones reveal a lot more glittering ponds and fabulous array, with White and Dalmatian Pelicans, Demoiselle Crane, Armenian and Pallas's Gull, Pygmy Cormorant, and various ducks on offer, including Red-crested Pochard and Ferruginous Duck. At mudflats and lakeshores, the terrific manifold of waders includes Spotted and Little Crake, Broad-billed Sandpiper, Temminck's Stint, Terek Sandpiper and occasionally Sociable Lapwing too. Exploring verdant grasslands with boulders and freestanding stone structures, we should expect some interesting passerines including Citrine Wagtail and likely Radde's Accentor close to a plateau, whilst if we are really lucky, we may even encounter Crimson-winged Finch. Slightly westwards, another remarkable place awaits us hidden in the wondrous creamy cliffs. This is a Byzantine style cave town with dry and bushy landscape about, and here we should be rewarded with good chances to see both, Western and Eastern Rock Nuthatch, Egyptian Vulture, Levant Sparrowhawk and many more attractions before impending way towards steppes.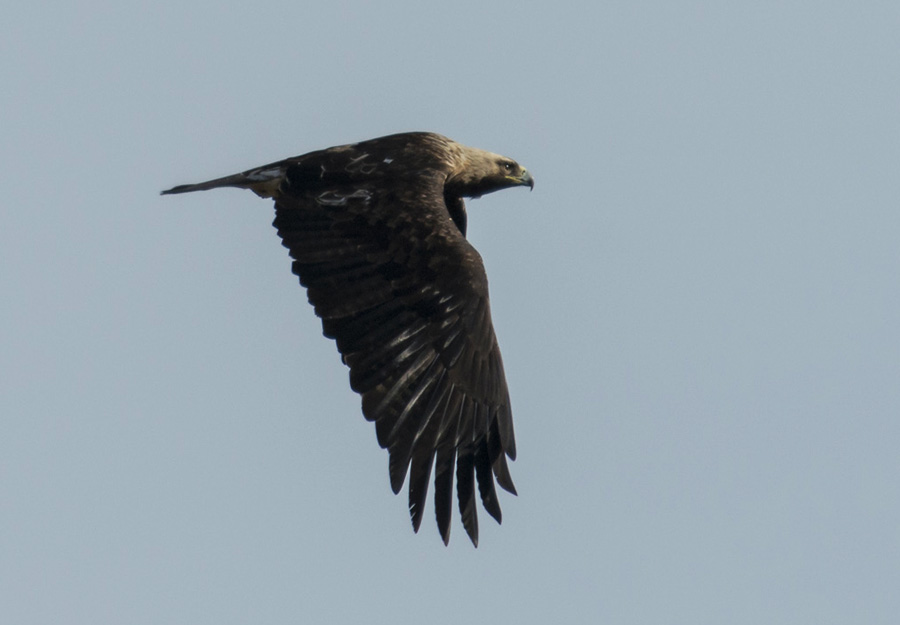 The last scenario expands to the boundless savannahs, stretching over the country's easternmost corner, otherwise known as Imperial Eagle land. Not one other place provides better chance to obtain such incredible views of this imposing bird. These intact steppes and semi deserts offer phenomenal sceneries and yet more tempting variety, including Montagu's and Pallid Harriers spreading wings over the vast farmlands and plains, either both Griffon and Black Vultures souring overhead. Birding the sandy canyons allows us to see resident White-tailed Eagle, Black Stork, Lesser Kestrel, Nightjars and various owls, including Little, Scops and Short-eared Owls. Deeper, in to the gorgeous nature reserve, we have good chances to assemble a set of complementary attractions, including Lesser Spotted, Steppe, Short-toed and Booted Eagles, Peregrine, Saker and occasionally Lanner Falcons. Passerines such as Isabelline, Black-eared, Pied and Finsch's Wheatears, Olivaceous and Menetries's Warblers, Spanish and Rock Sparrows, Bee-eater, Roller, Golden Oriole and a lot more can be well approached birding about pistachio gorges with minor shrubberies, whilst exploring surrounding parched plains, we are simply obliged to encounter one of the area's most prized birds, Black Flancolin. Forthcoming and one of our final hotspots, which is simultaneously an ancient shrine of the V century, reveals some of farewell bonuses, including Lesser Short-toed Larks amongst large flocks of Calandra Larks, thousands of Rosy Starlings, Rufous-tailed Scrub Robin, Blue Rock Thrush, Eastern Orphean Warbler, Chukar and a lot more.
Additional Information
| | |
| --- | --- |
| Duration | 10 full birding days |
| Grading | Smooth and gentle walks only |
| Main focus | Birds |
| Other focus | Mammals, reptiles and early spring insects |
| 0 | 0 |
For more details (itinerary and quote) and reservation, please refer to: info@birdingcaucasus.com
Dates of the next tour: 1 – 11 May 2025
You can also get acquainted with our trip reports for previous years:
Photo credit
Kruper's Nuthatch by Dan Kuehler

Caucasian Snowcock by Rami Mizrachi

Great Rosefinch by Silas Morreeuw

Caucasian Grouse by Ilya Ukolov

Guldenstadt's Redstart by Christian Gelpke

Demoiselle Crane by Ilya Ukolov

Eastern Imperial Eagle by Hugh Jansman
Birding Georgia, Birdwatching in Georgia, Spring in Georgia, Spring Birding in Georgia, Georgia in Spring, Caucasus's Big Five, Caucasus's Great Five