Azerbaijan, one of the most enchanting and yet hidden gems of the famed Caucasus region, stretching on the western coast of the world's largest lake, known as the Caspian Sea and along the southern slopes of the Greater Caucasus Mountains, forming the conditional border between Europe, Asia and the Middle East. Still little is known about this truly fascinating destination, but although comparatively modest size, the country reveals an exceedingly rich and varied nature, constantly holding one of the most remarkable birdlife ranging in the Western Palearctic. This 8-day tour offers a wonderful opportunity to experience the delights of winter birding. Climatically, this eastern edge of the Caucasus is relatively dry, with dominating subtropical conditions that makes winter soft and pleasant. With that, giant lakes and shallow waters along the Caspian coast, in combination with a semi-desert steppes and plains, provide unique ground for millions of wintering waterfowl and terrestrials, including massive flocks of Little Bustards, a highest wintering concentrations in the world. 
Caspian Winter Adventure
A winter birdwatching tour to Azerbaijan 22 – 31 January 2021
Main targets
| | | | | |
| --- | --- | --- | --- | --- |
| Lesser White-fronted Goose | White-headed Duck | Broad-billed Sandpiper | Griffon Vulture | Lesser Short-toed Lark |
| Ruddy Shelduck | Dalmatian Pelican | Temminck's Stint | Black Vulture | White-winged Lark |
| Marbled Duck | Pygmy Cormorant | Armenian Gull | White-tailed Eagle | Citrine Wagtail |
| Red-crested Pochard | Greater Flamingo | Pallas's Gull | Imperial Eagle | Bluethroat |
| Ferruginous Duck | Grey-headed Swamphen | Black Francolin | Long-eared Owl | Spanish Sparrow |
| Long-tailed Duck | Kentish Plover | Little Bustard | Short-eared Owl | Rock Sparrow |
| Smew | White-tailed Lapwing | Syrian Woodpecker | Greater Short-toed Lark | Red-fronted Serin |
| 0 | 0 | 0 | 0 | 0 |

Overview
Our journey will launch from a glamorous and the never sleeping capital of Azerbaijan, heading southwards, into one of the most rewarding hotspots and the country's first ever established national park, with a biggest in the South Caucasus and yet steadily growing population of Goitered Gazelles (Gazella subgutturosa). A thousand hooves graze around an area and in winter, bare landscape offers very good chances to encounter quite a few.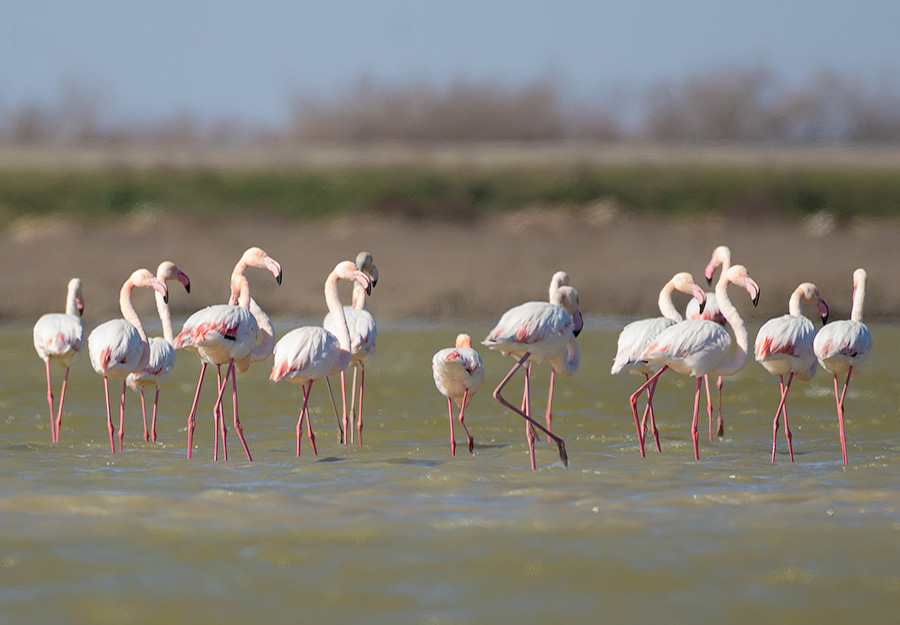 Heading deeper into the park, we will find various floodplain wetlands and the lake with a bird viewing tower and a hide in the reeds, from where we should expect to see diverse wildfowl, including Globally Threatened Lesser White-fronted Goose, Ruddy Shelduck, Marbled Duck, Red-crested Pochard, Ferruginous Duck, Long-tailed Duck, Smew, White-headed Duck, Dalmatian Pelican, Pygmy Cormorant and possibly Velvet Scoter too.
The neighbouring site, so known as the Flamingo Lake, and the name itself probably describes it why, harbors country's one of the largest assemblage of a wintering Greater Flamingo. Surrounding intact steppes unfold some of terrestrial highlights and here we shouldn't miss getting good views of Black Francolins, while amongst various passerines Citrine Wagtail, Bluethroat, as well as Greater Short-toed, Lesser Short-toed and White-winged Larks should be well approached joining large flocks of Calandra Larks and Skylarks. Other representatives of a local fauna includes both Long-eared and Short-eared Owls, Syrian Woodpecker, White-tailed Eagle and varied other attractions awaiting us here.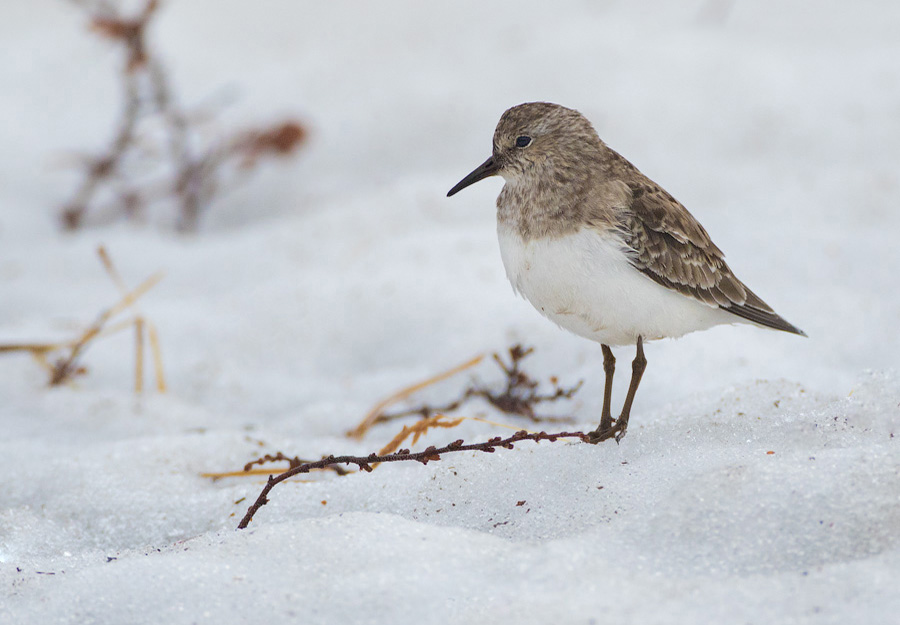 The journey continues along the Caspian coast and particularly to the giant river delta, with many big and small ponds about. The area disposed on the main migratory corridor, alike the legendary Besh Barmag sanctuary and here we should expect simply anything and everything amid magnificent fall of wintering groups, including a great selection of waders. Grey-headed Swamphen, Kentish Plover, White-tailed Lapwing, Broad-billed Sandpiper, Temminck's Stint and many more appealing species are regularly found whilst birding surrounding mudflats, shallow waters and sandy beaches along the shoreline. Apart, various gulls and terns are another numerous species to see here, including one of the most prized Pallas's Gull. Further south, another Caspian treasure deserves our visit. Only a few birders except Soviet ornithologists have had a chance to step into this hotspot so far. Hitherto restricted for public entry, the government has very recently allowed visitors to explore the area and using this great opportunity, we will be among firsts with such a privilege. The park is considered to be one of the most important wintering sites in Europe, covering an extremely large territory along the coast, however, luckily for us, the most of wintering aggregations are concentrated on relatively small and well approachable areas, with interesting array of highlights on offer.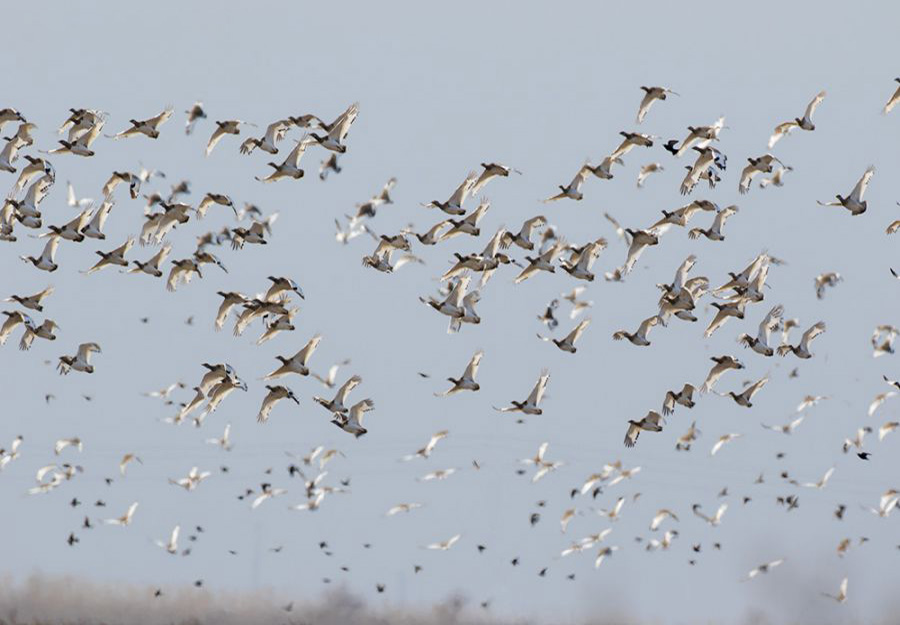 Moving on through the country's central part, the first we come across is a second biggest wetland site in Azerbaijan. This flawless steppe lake of shallow brackish water attracts an umpteen wildfowl providing another great chance to boost a list. Exploring surrounding steppes, we will witness a blanket of Little Bustards spreading all over the plains. A vast wheat fields and other low prairies around, create an excellent wintering habitat for impressive flocks of thousands… a mind-blowing spectacle indeed. Just couple of hours further and we come by the country's northwest brink, an area of beautiful arid badland, open steppe and semi-desert landscapes, alongside with numerous steppe wetlands, with significant waterfowl fauna and the Armenian Gull, likely a new species for the list. Considering that we are just one step away from Georgia and the famous hotspot, also known as the Imperial Eagle Land, we will definitely have an opportunity to observe a few of this charming birds around. Among other Raptors both Griffon and Black Vultures, various harriers, buzzards and some other common species, while with little more fortune we may even spot the Greater Spotted Eagle or the Saker Falcon. Target passerines, such as Spanish Sparrow, Rock Sparrow and Red-fronted Serin are commonly seen around, along with other species. Occasionally a Black Lark may also appear amid a flock of numerous Calandra Larks and we will keep our eyes peeled for such an ultimate bonus.
Additional Information
| | |
| --- | --- |
| Duration | 8 full birding days |
| Grading | Smooth and gentle walks only |
| Main focus | Birds |
| Other focus | Mammals; Goitered Gazelles Gazella subgutturosa.  |
| 0 | 0 |
For more details (itinerary and quote) and reservation, please refer to: info@birdingcaucasus.com
Photo credit
Eastern Imperial Eagle by Hugh Jansman

White-headed Duck by Stephen A Daly

Marbled Duck by Ilya Ukolov

Black Francolin by Ilya Ukolov

Dalmatian Pelican by Stephen A Daly

Greater Flamingo by Ilya Ukolov

Temminck's Stint by Ilya Ukolov

Little Bustard by Ilya Ukolov
Bird Migration, Raptor Migration, Birding Caucasus, Birding Azerbaijan, Tours for Conservation in the Caucasus, Winter Birding in Azerbaijan, Besh Barmag Birding